Inspired by the "WTF??" entry on my new friend
Grin's blog
, I give you a collection of actual photos sent to me by some hotties during my
ill-fated stint with online dating.
Now, I will preface this by saying that I never bothered with the likes of Match.com. I went straight to the
Spring Street Neworks
of cyber-matchmaking, which on the up side seems to attract creative, witty and liberal people (Salon.com and The Onion are a part of the network) but is also the personals-of-choice for
Nerve.com
. That could be an interesting thing when one is on the hunt for Mr./Ms. Right Now. On the other hand, you can be fairly certain that many of the participants have gotten really adept at typing with one hand. And proudly possess an entire photographic collection of the One-Eyed Monster. I'll spare you those.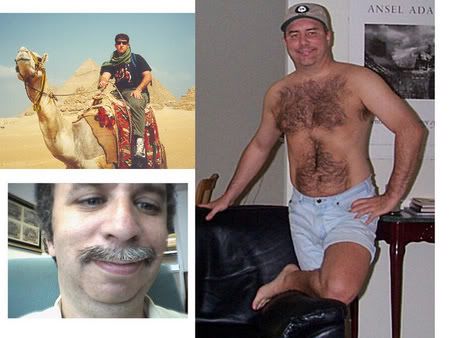 Upper Left: I think there was a message related to humping here, but I can't be sure. All I know is that the camel has a better smile.
Lower Left: OK. If you are old enough to remember the "Your in-laws are coming to dinner" commercial you will know why this freaked me out.
Right: You can leave your hat on. Please put your shirt on. And what's with the leg? I like to think of him as "Ugly Almost-Naked Lord of the Dance Guy."
Left: Someone once described Club Med:Hedonism as "Wal-Mart, naked." I think these people go there a lot. To Hedonism. And Wal-Mart.
Upper Right: His high-school photo from 10 (20?) years ago. He was voted "Most Likely to Show Up on Some Crazy Woman's Blog."
Lower Right: "If you go out with me I'll take you to this cheap motel!" Sheesh. I'd probably have to supply the Mateuse.
I'm slightly bummed that I threw out a lot of the real doozies. Yeah, they were worse.