Original post date: March 3, 2005. I have so many good Catholic school stories...will write more in the Fall when everyone is back in blog mode. In the meantime, here's a good retread for the newer readers.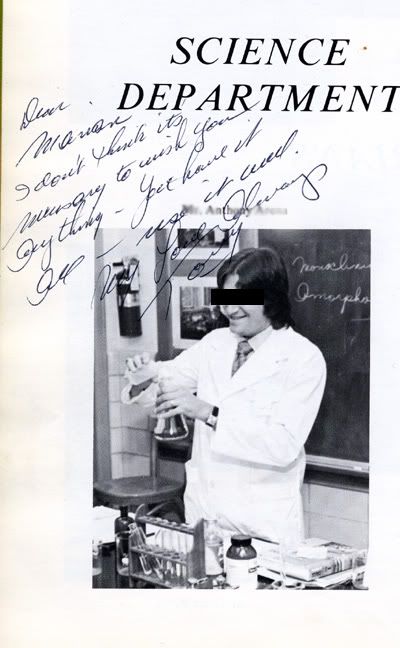 Since so many of you liked my "made out with my high school science teacher" factoid, I decided to provide some visual reference of him, and two other guys who would be arrested if they did this stuff today. In the tradition of Glamour do's and don'ts, I've obliterated their identities.
If you can't read what Mr. Science Guy wrote, it says: "Dear Marian, I don't think it's necessary to wish you anything. You have it all -- use it well. My love always, Tony." Although this was written in Senior year, our flirtation started when I was a Freshman (14 years old). What is most astounding to me now, looking back, is that one day when we were making out in a locker room, a PRIEST walked in on us and said, "Oops...sorry!" and left! He was probably getting busy with the altar boys.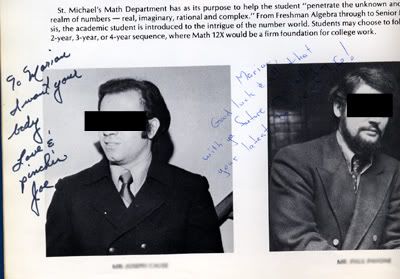 These two clowns were Math teachers, but I had no interest in them. Mr. Geometry on the left wrote: "To Marian, I want your body. Love & pinches, Joe." Mr. Algebra on the right said "Marian, good luck & all that with ya future and especially with your latest bounce of life!" (what can I say? It was 1973. I went braless. We had to spice up that uniform SOMEHOW.)
It was probably unrealistic to think that you could put 20-something guys in that situation (all girls' Catholic School) without having them go a little crazy, and we were more than happy to do the crazy-making. I'm convinced we would have behaved better in a normal, co-ed public school environment with boys our own age.