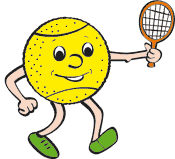 I'm off to
tennis camp
with my friend Joy this weekend. It's a yearly event for us, and kinda meaningful.
The first time I went was three years ago, alone. I was put into a group with 3 women from Northern Westchester. We got along famously, and at one point I mentioned that I was originally from Brooklyn. Joy said, "I'm from Brooklyn too, but NO ONE is from my neighborhood." I countered, "NO, no one is from MY neighborhood." Well, it turns out we grew up about 4 blocks from each other.
Based on that weekend, we remained friends and I wound up moving from Greenwich, CT and buying this condo right near them. Isn't it great when things like that happen? One small decision (to go to tennis camp that weekend) changed my whole life.
So, since I'm leaving and won't be back until Sunday, I'm going to leave a few links to older blog posts that some of you may not have read. You can choose from:
Pope Humor
Ode to Super Nanny
More Halloween Fun
The Ones That Got Away
I'll miss you all and it will take me a few days to catch up when I return! Please leave me some comment lurrrrrve.