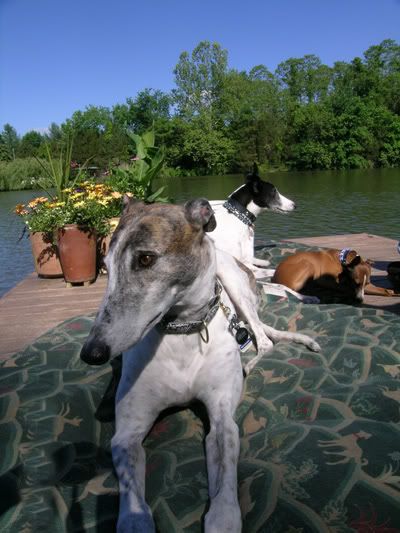 ...for the hounds. As I mentioned yesterday,
tomorrow
,
Monday
, I will be running a
comment fundraiser
to benefit
Greyhound Rescue & Rehab
.
Tomorrow morning (or at midnight tonight if I can stay up that late!) I will make the official benefit post. Then, I will donate $2 per comment for the first 100 comments, and $1 per comment thereafter (wouldn't it be great to get more than 100 comments?).
In addition, anyone who goes to the
Greyhound Rescue & Rehab site
and donates directly should put "TDB" (for The Dog's Breakfast) in the Memo field on Paypal. You will then be entered in a raffle to win a
$50 Gift Certificate
for jewelry at
Jakk's Magic Bean Workshop
donated by Julie of
Jul of the Day
. You can do that any time between now and Tuesday at 9PM.
Please promote tomorrow's comment fundraiser on your blog.
If you want more information about retired racing greyhounds, and why we need to raise money for them, read the GRR site and my
previous blog post.
Photo taken by me, of my pup Kelso and Riley and Jabari, of
Greyhounds Living in Paradise
. Riley and Jabari have moved to Hawaii...the stinkers.