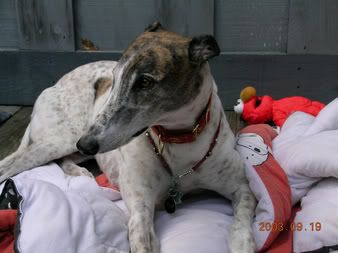 173 COMMENTS
left on yesterday's fundraising post for
Greyhound Rescue & Rehab!
Since some people accidentally put their comments on the previous day's post, and some emailed me because the "line was busy" on my haloscan comments, I'm going to round up to 180...which translates to
$280
that I'm forking over for the greyhounds!
You guys are awesome! Thanks also to many of you who cross-posted about the event on your own blogs.
Remember, although the "comment fundraiser" is over, you can still donate something...doesn't have to be much...directly to Greyhound Rescue & Rehab. If you do it before 9PM tonight, and put "TDB" in the memo field of the Paypal form, you will be entered into the drawing to win a $50 Gift Certificate from Jakk's Magic Bean Workshop. There you can choose a lovely pendant or earrings designed by Jul of Jul of the Day.
C'mon...do a little something for the pups. I promise you a VERY funny blog post for tomorrow...but only if we get some action today! I'll give you a hint: I collect malaprops. Now...go
donate!