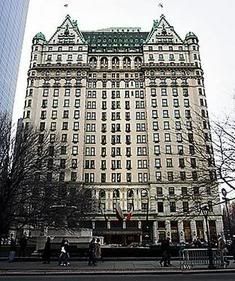 The Plaza Hotel may be converted to
condos.
For many of you, this might be big-yawn news. For me, it means the end of an historical landmark...the Beatles stayed there, for chrissake. I've had drinks at the Oak Bar, saw Andy Warhol at Trader Vic's, spotted Muhammed Ali as he hailed a cab from the side entrance. I protested against the inhumane treatment of the carriage horses.
But most of all, The Plaza was the place where three of my closest friends and I made mischief as teenagers. We'd take the subway from Brooklyn, buy tickets to see a movie at the Plaza Theater, and amuse ourselves before the show by running around the hotel. We'd change the "Do Not Disturb" signs to "Please Make Up This Room". We'd look for leftovers on the room service trays left outside the rooms. Never did anyone see us or stop us. Until one night.
There was a bathroom in the hallway on one of the upper floors. We decided that the two guys, Andrew and Kevin, would go in and smoke a joint while Andrea and I waited outside, on the lookout. When they were done, we switched places. She and I were doing our thing when we heard muffled voices from the other side of the door. The guys were talking to someone...a man. Panicked, I wanted to flush the roach down the toilet, but instead Andrea stuffed it into the waistband of her jeans. We opened the door to find the house detective and our two petrified buddies.
The detective took us to his office, where we showed him our movie tickets and tried to explain that we were just innocently killing time before the movie. He proceeded to take down our personal info, one by one. As he was scribbling Andrew's parents' names and phone number, I could see Andrea maneuvering the roach out of her pants. What the heck was she doing? Trying not to look directly at her, I could tell that she was opening the zipper of her upholstered chair and cramming the evidence in there. Fucking brilliant. Still, as each home phone number was collected we knew that we were dead meat...pot or not.
Then, the detective got to Kevin: "Where do you live?" "Greenpoint." "What is your last name?" "Sullivan". "Sullivan? In Greenpoint? Are you related to Nancy Sullivan?" "Yes, she's my sister.' "Oh man...I was in love with her in high school. How is she?..." and on and on it went, until he told us to get our skinny asses out of his hotel and never come back.
Let's hope that this plan falls through, or we may start hearing that the Metropolitan Museum of Art is being converted to a Wal-Mart.